UFC 282, the last major event of the year came from the T-Mobile Arena in Las Vegas, and it was a rough night on The Strip.

Bad decisions topped the card, leaving a sour impression on what was a solid card.

Magomed Ankaleav and Jared Gordon were robbed of the biggest wins of their careers, and are unlikely to see another opportunity again. Elsewhere on the card, there were sensational performances from the likes of Dricus Du Plessis, Raul Rosas Jr., and even Edmen Shahbazyan.
The card is over, and the fights are done, so let's wrap it what you missed at UFC 282.
UFC 282 Results
Magomed Ankalaev and Jan Błachowicz fight to a split draw
Paddy Pimblett UD Jared Gordon (29-28, 29-28, 29-28)
Santiago Ponzinibbio KO Alex Morono in Round 3
Dricus Du Plessis SUB Darren Till in Round 3
Ilia Topuria SUB Bryce Mitchell in Round 2
Raul Rosas Jr. SUB Jay Perrin by submission in Round 1
Jairzinho Rozenstruik KO Chris Daukaus in Round 1
Edmen Shahbazyan TKO Dalcha Lungiambula in Round 2
Chris Curtis KO Joaquin Buckley in Round 2
Billy Quarantillo TKO Alexander Hernandez in Round 2
TJ Brown SUB Erik Silva in Round 3
Cameron Saaiman TKO Steven Koslow in Round 3
Ankalaev Gets A Raw Deal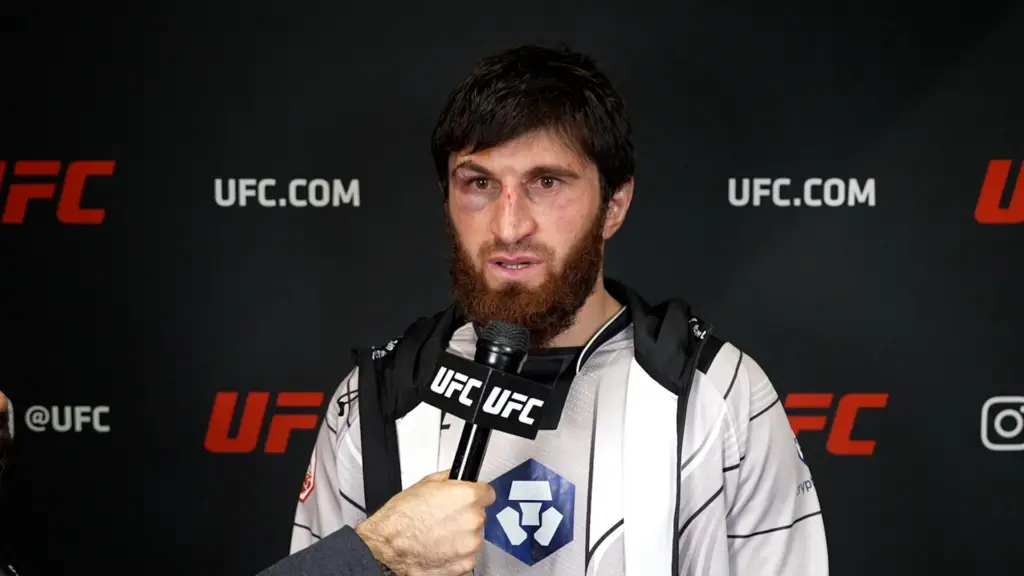 With the light heavyweight title vacated after Jiri Prozchaka suffered a shoulder injury, Jan Blachowicz and Magomed Ankalaev stepped up to the UFC 282 main event. After five hard-fought rounds, their fight was ruled a draw.
Blachowicz, who briefly held the title from 2020-21, controlled the fight early and damaged Ankalaev's right leg in the second. This caused Ankalaev to switch from southpaw to orthodox and suddenly turned the fight in his favor. Ankalaev surged, topping it off with a dominant fifth round.
Not only that, he held a 78-55 advantage in significant strikes and two takedowns. Ankalaev restrained the notoriously strong Pole on the mat for over 11 minutes and got saddled with a draw.
Blachowicz subtly hinted that he was not the better man stating that "I don't know if I lost the fight, but I'm not the winner."
Ankalaev was mortified, as were we all, and gave no quarter when discussing the judging of the main event.
UFC President Dana White left little to the imagination and announced that Teixeira will now face Jamahal Hill for the vacant title at UFC 283. This just gives the UFC another chance to eventually stage the fight they want: Prozchaka vs. Teixeira II.
Ankalaev deserves better and shouldn't be punished because of a shoddy decision. Sadly, this wasn't the only bad decision of the night.
Paddy and the "Baddy" Decision
Paddy Pimblett didn't have the best week going into the toughest fight of his career. The outspoken Liverpool native spent too much time picking fights with MMA reporter Ariel Helwani this week when he should have been focused on Jared Gordon. 
Gordon gave all Pimblett could handle in the first two rounds of their lightweight clash. He also took the third as Pimblett seemed disinterested in putting his foot on the gas. All three scorecards reflected a 29-28 score for Pimblett, but you get the sense that he dodged a bullet here. Gordon controlled the fight from bell to bell, so it was a shock when the decision went to Pimblett.
Pimblett is being positioned as a future star for the promotion, and his Helwani bashing came to the delight of Dana White. That bond might result in Pimblett getting favorable decisions or positioning on future UFC cards, such as the recent announcement of UFC 286 coming from London.
It capped off a deflating week for Pimblett, who is coming across as an entitled brat who is having trouble balancing his role as a fighter with his new hobby of kissing his bosses butt. Lucky for him, his success in the short term is for the promotion's best interests.
Teenage Raul Rosas Shows Out
Raul Rosas is only 18 years old, but the word "sensation" is not to be used lightly when it comes to the most dangerous high school senior in the world.
Rosas made his UFC debut count by submitting Jay Perrin with a face crank in the first round. There was never a point where Rosas looked out of place against the 17 fight veteran.
There is a lot to like about Rosas. The bantamweight should find big fight sooner than later, and there is plenty of marketing to be had as Rosas could eventually threaten Jon Jones' record of being the youngest champion in UFC history. "Bones" did it at 23, giving Rosas five years to beat the feat.
"All I see is gold. I don't really know any names outside of the top 15 [rankings]. Whoever I have to get through to get to that belt, I'm gonna get through," Rosas said after the fight.

As long as his head doesn't get too big, Rosas can end up becoming a cornerstone for the UFC as the face of a new generation.
The Final Bell
The myth of Darren Till at middleweight is over
Darren TIll's run at middleweight has been nothing short of disastrous. Many thought Till's striking prowess would carry him towards a title shot, but he's gone 1-3 since moving up in weight and has been wiped out in each of those losses. Dricus Du Plessis tore him apart and left an exhausted Till helpless to defend against a neck crank submission in the third round. It's hard to say where Till goes from here, but the expectations for his future success has come down plenty.

Jairinzho Rozenstruik delivered a savage knockout of Chris Daukaus on the preliminary cards to keep himself relevant for a future fight. The normally reserved Rozenstriuk has got himself in trouble for being overly passive in recent fights, but he came at Daukaus with a vengeance and blasted him out in a mere 23 seconds. We know what we're going to get from Rozenstriuk, but this performance should get him in line for another significant fight in 2023.
Edmen Shahbazyan's new look
Edmen Shahbazyan was quickly turning into one of the most disappointing UFC prospects in some time, but a change of scenery and training staff after a three-fight losing streak did wonders. Shahbazyan left the confines of his native Glendale to train with the Xtreme Couture team in Las Vegas, and looked monstrous dispatching Dalcha Lungiambula in two rounds on the UFC 282 preliminaries. There's still work to be done, but there was also a lot to like about the new look Shahbazyan.